SEPTEMBER 20, 2018 – Attorney Drew Clayton has been installed as president-elect of the Sarasota County Bar Association. SCBA officers for the new bar years are President Nancy Cason, President-elect Drew Clayton, Immediate Past President Chip Gaylor, and Treasurer/Secretary Mark Haskins. SCBA directors are Jeanne Bennett, Hagen Brody, Stacy Dillard-Spahn, Jason Gaskill, Jennifer Grosso, Adria Jensen, Dana Keane, Amanda Kison, and Bonnie Polk. Erin Itts was installed as president of the Young Lawyer Division.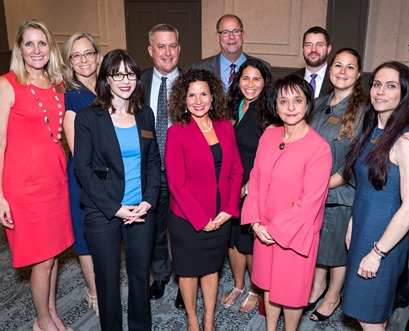 Front row from left: Amanda Kison, Nancy Cason, Adria Jensen, Bonnie Polk, Erin Itts, Dana Keane.
Back row: Jennifer Grosso, Jeanne Bennett, Drew Clayton, Mark Haskins, Jason Gaskill.