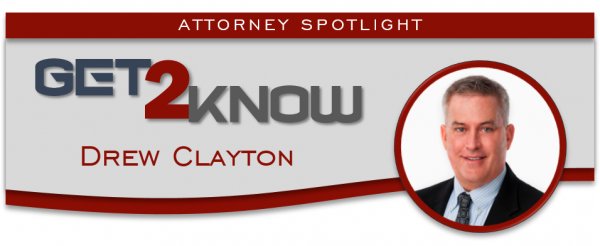 Drew Clayton is a shareholder at Icard Merrill practicing in the field of securities arbitration and litigation. Drew has been involved in hundreds of securities-related disputes during his 31-year career. He has not only represented customers in cases against financial advisors and brokerage firms, but investors in closely-held businesses, securities industry employees in disputes with their former employers, and in regulatory proceedings initiated by state and federal regulators as well as the Financial Industry Regulatory Authority.
---
When do most clients in your area come to realize that they need an attorney? 
Most clients come to me when they have lost a great deal of money as a result of investments that they did not realize could present that much risk to them.
What is the most fulfilling part of your job?
Helping people recover financially and, consequently, emotionally.  The loss of significant money, particularly by retirees, is an emotionally devastating event.  When we are able to recover that money it can have a significant and positive effect on the quality of our clients' lives.
What's a typical day like?
It is very busy!  There will be conference calls with other attorneys, meetings with clients, legal research, drafting of pleadings and correspondence, and meeting with staff to plan the prosecution of various cases.  In a typical day I will work on a dozen or more cases.  From time to time there are court appearances, depositions, trials and arbitration hearings.
What is your greatest professional success?
A few cases have stood out over the years, where I was able to recover a substantial amount of money for our clients in spite of very difficult odds.  Those have been the most professionally satisfying.  The single largest case I have recovered money in was by representing Sarasota County in a very complex securities lending case against Wells Fargo in which we obtained $24 million on behalf of the county through a settlement.
What class should you have taken in law school?
If a class in how to best manage client's expectations had been offered, I would have taken it!
Who has given you the best advice about practicing law and what was that advice?
Professor Gerard Carey at Seton Hall Law School advised us on the first day of torts class (i.e., negligence, fraud, etc.) that, "Life is not fair and the law cannot right all wrongs."  That was very sound advice and I have thought of it often in the more than 30 years that I have been practicing law.
What advice would you give to a law student?
Be well-rounded and live a balanced life.  Do not allow the law to consume your life.  Develop hobbies if you don't already have them!   
What book are you currently reading, or what book do you recommend?
I read constantly.  At the moment, I am reading Jordan Peterson's "12 Rules for Life."
What makes you laugh?
Stand up comedians, particularly Bill Burr, Jim Gaffigan and Brian Regan.
What are your three most favorite activities outside of work? 
Flying (as a private pilot), traveling, and cooking.
What's great about living in the Suncoast area?
The sunshine and consistently beautiful weather which allows us to be outside a great deal.
What community or nonprofit organization are you most passionate about?
That is a very tough question to answer because there are so many outstanding non-profits in this community.  As a result of serving a few years ago on an advisory board to the county commission, I had a chance to do a number of site visits with local non-profits.  I was probably most impressed by the Salvation Army because of the positive impact it has had on so many people's lives.