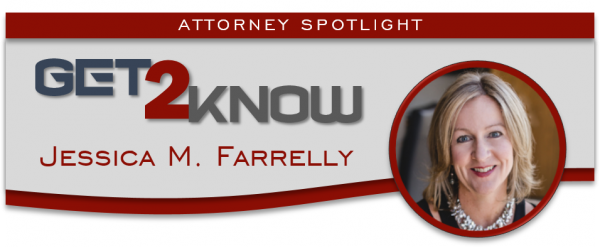 Jessica Farrelly is an employment law attorney in Icard Merrill's Sarasota office. Her extensive employment litigation experience includes representing employers in the defense of all types of employment law claims at the administrative, trial and appellate levels. In the state and federal courts in Florida and Massachusetts, Jessica has litigated claims of race, national origin, sex, pregnancy, religious discrimination, and retaliation. She has represented management before administrative agencies, and has conducted workplace investigations involving allegations of employee misconduct, sexual and other harassment, discrimination, and bullying.
---
When do most clients in your area come to realize that they need an attorney? 
In the employment law world, unfortunately, a lot of my business clients realize they need an attorney after critical decisions have already been made. For example, a current or former employee already feels wronged and has challenged a personnel decision or asserted a claim based on something the employer has done or failed to do. The old adage, "An ounce of prevention is worth a pound of cure" really rings true in employment law.
What is the most fulfilling part of your job?
I truly enjoy helping a client through a rough transition. Businesses are pulled away from their primary goals and distracted by employment law issues. Most businesses want to do right by their employees, but mistakes or oversights can happen when management is uninformed. It is fulfilling to educate clients so they can minimize liability risks and maintain the focus on the actual business of doing their work.  When employees feel like they are being treated fairly and with respect, they are more productive and happy at work. It's a win-win for everyone.
What's a typical day like?
One of the things I like about my job is that there is no "typical" day.  I could be preparing a position statement for the EEOC, drafting agreements or employee handbooks, preparing for mediation or arbitration, conducting an investigation, or writing a motion or opposition. Inevitably, clients also call with personnel issues for which they need immediate guidance.  Some portion of my day also almost always consists of community involvement, whether it's my work as President of the Sarasota Chapter of the Florida Association for Women Lawyers ("FAWL"), or contribution to the Leadership Sarasota Program with the Chamber of Commerce (shout out to Class of 2017, the Rowdiest Class).  A really good day always involves a long run and dinner with my family.
What is your greatest professional success?
Not many of my employment law cases go to trial anymore. There seems to be a growing sentiment to explore early resolution, if possible, given the time and costs associated with litigation. In the past, I first-chaired and second chaired jury trials in state and federal court and obtained several defense verdicts on behalf of my clients. Connecting with a jury and delivering those favorable results for your client is a great feeling.
I also consider the transition of my career to Sarasota – after practicing law in Orlando for 7 years and Boston for over a decade – a success. It's a success still in the making….
Who has given you the best advice about practicing law and what was that advice?
One of my mentors in Boston said wise words to me that are not specifically about the actual practice of law, but relate to the bigger picture. He encouraged me not to always pick the "safe" choice. He reminded me there are always surprises around the bend in life. Bravery is confronting them head on, rather than playing it safe and waiting for them to happen when you're least prepared.  With self-confidence, determination, and hard work, walking the less "safe" path can be both enlightening and rewarding.
What advice would you give to a law student?
I recently shared the following advice for recent graduates/mentees which was published in State FAWL's Spring/Summer 2019 Journal:
Work Hard. Always be the hardest worker in the room. Always ask, "How can I help?" and be willing to go the extra mile.
Be strategic about developing relationships both inside and outside your firm/company. Talk less and listen more. Be aware of how you can add value to your colleagues and your clients. Take action.
Silence the self-doubt. Exude confidence in your abilities through both your physical presence (stand tall) and your voice (speak deliberately and powerfully).
Stay Strong. Prioritize your physical health so you can fuel your mind. Exercise should not be the first thing to fall off your schedule.
What book are you currently reading, or what book do you recommend?
"Wait, What?" by James E. Ryan was a great book. So is "The One Thing" by Gary Keller.
What makes you laugh?
My 10 year-old daughter can put on the best Boston accent. When her petite frame shouts, "GO SAWKS!" or "GO PATS!" it always makes me laugh.
What are your three most favorite activities outside of work?
That's easy – running. I also enjoy pick-up basketball games with my son and daughter.  Tennis is my first love. I started playing around age 7 and played Division I in college. But it's been a long time — I'd like to get back out on the court if time ever allows.
What's great about living in the Suncoast area?
What's not? Sarasota is gorgeous, culturally rich, and full of motivated people looking to make change.
What one community or nonprofit organization are you most passionate about?
I am obviously very passionate about promoting women in leadership positions and furthering the mission of FAWL. That dialogue starts with young girls. Girls Inc. does a fantastic job of creating an atmosphere of support and fearlessness for young girls to carry forward into their lives and careers.
Jessica Farrelly
phone  //  941.366.8100
fax  //  941.366.6384
jfarrelly@icardmerrill.com
FULL BIO