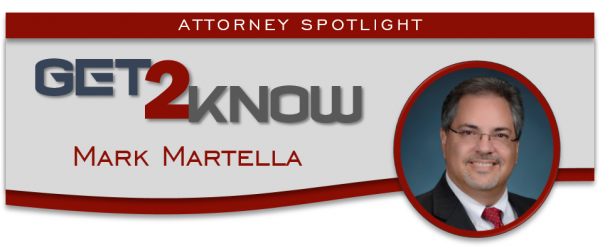 Mark Martella is an experienced authority in business law and business practices, real estate matters, bankruptcy, foreclosure, and estate planning. In his 30 years as an attorney both in New Jersey and Florida, he has helped thousands of clients facing business and personal financial challenges.
---
When do most clients in your area come to realize that they need an attorney? 
Either when they have maxed out their credit cards, are served with a credit card lawsuit, or have their bank account or wages levied upon.
What is the most fulfilling part of your job?
Seeing the relief on a person's face when they realize they don't have to continue to live under the financial stress they are under, and that there is a way to get a fresh start and relief from their financial troubles.
What's a typical day like?
On any given day, I may be meeting with multiple clients for the first time to explain the bankruptcy process, or meeting with them to finalize and sign their petition so they can get the protections from creditors as provided by the U.S. Bankruptcy Code.  Additionally, I may be in court attending creditor's meetings or arguing motions in both bankruptcy court or foreclosure court.
What is your greatest professional success?
Every time I am able to save someone's home for them from foreclosure or get them a Bankruptcy Discharge of their debts, I feel a great sense of accomplishment.
What class should you have taken in law school?
Without a doubt – Bankruptcy!
Who has given you the best advice about practicing law and what was that advice?
Nicholas Cassiello, Esq. on my first day of practicing law: "All you have is your reputation."
What advice would you give to a law student?
Work in a law firm and interview at least 12 lawyers in different practice areas BEFORE making  the decision to go to law school. It's not like what you see on TV.
What book are you currently reading, or what book do you recommend?
"Grit" – by Angela Duckworth
What makes you laugh?
My yellow lab, Bogey
What are your three most favorite activities outside of work?
Cooking, sailing and fishing
What's great about living in the Suncoast area?
No more cold and gray Jersey winters!
What one community or nonprofit organization are you most passionate about?
The Charlotte County Homeless Coalition