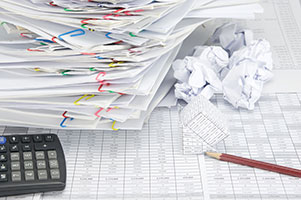 Bankruptcy
Whether you are an individual or business facing difficult financial circumstances, please call us for a free consultation regarding your rights and opportunities under a Chapter 7 and Chapter 13 Bankruptcy filing.  Even if you have been served with a foreclosure complaint and are facing a foreclosure sale, there are multiple tools we can use in a Chapter 13 that may allow you to keep your home.
Debt Negotiations

Sometimes, bankruptcy is not a good option for people with debt issues but they still need assistance in dealing with their creditors.  In these cases, we can still assist you in working with your creditors to either work out a reasonable repayment plan or a reduced settlement in exchange for a lump sum payment.  We also offer representation of you in court if are sued by a credit card company or other creditor to make sure your rights are protected and to negotiate a settlement. [BEWARE: Debt Settlement Companies do not offer this service]. Additionally, if you are tired of receiving harassing phone calls, if you elect to retain our firm, we will take all of those calls for you.
If you would like to explore your non-bankruptcy options, we offer a complimentary and confidential initial consultation.
Creditors' Rights and Receivership
Icard Merrill's business and commercial litigation attorneys provide skilled representation in bankruptcy and creditors' rights and receivership matters, including trials and appeals of:
Assignments (for the benefit of creditors and secured lenders)
Creditor Committees
Debt Restructuring and Workouts
Trustee Representation
Our business and litigation bankruptcy clients include secured and unsecured creditors with complex insolvency issues and range from national companies and lending institutions to local businesses. We also provide assistance to clients involved in preference and fraudulent transfer litigation as well as bankruptcy discharge objection proceedings.
Attorneys