Icard Merrill continues to serve our clients, both individuals and businesses, who have been affected during this challenging time. The COVID-19 pandemic and resulting Executive Orders, regulations, and laws have created a flurry of employment, financial, and business issues. We are here to help you.
We are working remotely as possible. Answers to phone calls & emails may be delayed. If you call, please leave a voicemail & we will call you back asap.
EMPLOYMENT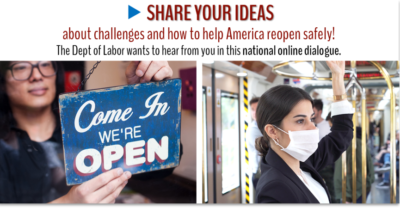 The US Dept of Labor is hosting a national online dialogue to solicit ideas about challenges as businesses reopen and how to help workplaces reopen safely. They want to hear from both employers and workers about: 1) reopening businesses, 2) commuting safely, 3) working safely, 4) accommodating members of vulnerable populations, 5) supporting America's families, and 6) reducing regulatory burdens. You can participate, comment, and also vote on others' ideas through May 7th.
> Submit your ideas, comments, and votes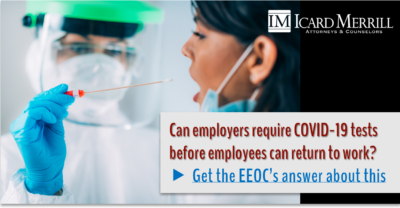 APRIL 17, 2020 – The Equal Employment Opportunity Commission (EEOC) issued an updated COVID-19 Guidance in the form of common workplace questions arising under the Federal Equal Employment Opportunity Laws related to the COVID-19 pandemic. The topics covered include:
Disability-Related Inquiries and Medical Exams
Confidentiality of Medical information
Hiring and Onboarding
Reasonable Accommodation
Pandemic-Related Harassment Due to National Origin, Race, or Other Protected Characteristics
Furloughs and Layoffs
Return to Work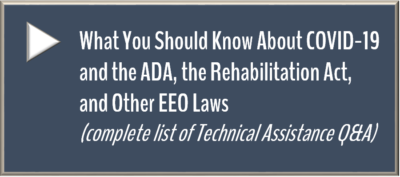 APRIL 1, 2020 – The U.S. Department of Labor announced new action regarding how American workers and employers will benefit from the protections and relief offered by the Emergency Paid Sick Leave Act and Emergency Family and Medical Leave Expansion Act, both part of the Families First Coronavirus Response Act (FFCRA).
The Department is promulgating regulations to implement public health emergency leave under Title I of the Family and Medical Leave Act (FMLA) and emergency paid sick leave to assist working families facing public health emergencies arising out of the COVID-19 global pandemic. The leave provisions are created by a time-limited statutory authority established under the FFCRA and are set to expire on December 31, 2020. The temporary rule is effective from April 1, 2020 through December 31, 2020. > GO HERE for more details.
The Wage and Hour Division will post a recorded webinar on Friday, April 3, 2020 to provide interested parties a more in-depth description and help them learn more about the FFCRA.  > VIEW THE WEBINAR
MARCH 18, 2020 – The Senate passed and President Trump signed the "Families First Coronavirus Response Act" (the "Act"). The Act contains an extension of the Family Medical Leave Act (FMLA) under which employees can receive paid family and medical leave, as well as paid sick time. These provisions will significantly affect businesses with less than 500 employees.
There is a posting requirement. If you would like a copy of the model notice for use by employers, contact Employment Attorney Jessica M. Farrelly. Send a request to jfarrelly@icardmerrill.com.
We can provide guidance on:
Employers obligations under the

Families First Coronavirus Recovery Act (FFCRA)

to provide paid sick time and emergency paid family and medical leave
Whether advanced notice needs to be provided to employees regarding reducing pay
Re-classifying or re-structuring workforces
Lay-offs
Telecommuting
Wage and hour issues
FMLA issues
Separation strategy and agreements
Potential risks and/or claims arising out of all the above
If you have business clients (or family members, friends, neighbors, colleagues, etc. who run or manage a business) who have questions about how to navigate the current and quickly changing situation, please have them contact us for assistance.

MARCH 27, 2020 – The U.S. Equal Employment Opportunity Commission (EEOC) posted a recorded webinar addressing questions arising under any of the Federal Equal Employment Opportunity Laws and the COVID-19 pandemic.
The recorded webinar answers questions submitted by the public about how to respond to the COVID-19 pandemic in light of the federal employment nondiscrimination laws the EEOC enforces – including the American's with Disabilities Act, the Age Discrimination in Employment Act, Title VII, and GINA.  The webinar supplements the COVID-19 publications already available on the EEOC's website: "What You Should Know About the ADA, the Rehabilitation Act, and COVID-19" and "Pandemic Preparedness in the Workplace and the Americans with Disabilities Act".
EEOC Chair Janet Dhillon also issued a message about unlawful national origin and race discrimination against Asian Americans in the workplace during the pandemic. The agency will continue to monitor developments and provide assistance to the public as needed.
If you have any questions regarding your business's obligations under this new Act, please reach out to Jessica Farrelly in the firm's Employment Law Group.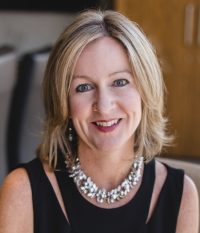 Jessica M. Farrelly
phone  //  941.366.8100
fax  //  941.366.6384
jfarrelly@icardmerrill.com
Please visit the pages below for extensive COVID-19 tools and resources: