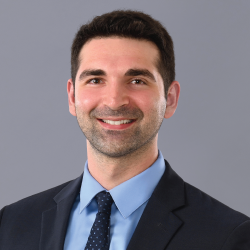 SEPTEMBER 22, 2023 – We are pleased to announce that Tyler J. Brown has joined the firm as an associate in our Sarasota office.
Brown was officially sworn in today by 12th Judicial Circuit Judge Andrea McHugh. His legal practice focuses on commercial litigation, real estate litigation, and appeals.
Prior to joining Icard Merrill, Brown served as a law clerk with the firm in 2022. While in law school, he was a member of the Moot Court Board and competed in several competitions across the country. He is both a state and national champion and has argued in front of state supreme court justices, federal circuit court of appeal judges, and made an appearance before the Florida Supreme Court. He was presented the Judge John M. Scheb Excellence in Appellate Advocacy Award and was recognized by the Judge Scheb Sarasota Inn of Court for his dedication to appellate advocacy. Brown was inducted into the Order of the Barristers for his outstanding achievements in written advocacy and service. In 2023, his classmates voted to award him the Moot Court Board Award of Excellence.
Brown received his undergraduate degree in hospitality and tourism management from Florida International University, and his J.D. from Stetson University College of Law.