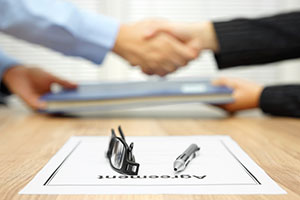 Litigation and Mediation Services
At Icard Merrill, our experienced trial attorneys possess the skill to successfully litigate a wide variety of civil litigation matters through trial. In the event of an appeal, we also have the talent and resources to continue this representation through conclusion of the appellate process, ensuring comprehensive representation for our civil litigation clients.
Along with our experienced civil litigation team, Icard Merrill offers an accomplished and highly regarded Mediation and Arbitration group, consisting of experienced and talented trial attorneys who devote the large majority of their practice to assisting other attorneys and litigants with the amicable resolution of their legal controversies.
If you are seeking representation in a civil litigation matter, or need assistance with resolution of your civil litigation matter through alternative dispute resolution proceedings, we can help.
General Civil Litigation
Utilizing their extensive experience and drawing from their diverse backgrounds, Icard Merrill's accomplished attorneys have successfully litigated an expansive range of civil cases. We provide litigation services in virtually all areas of civil practice.
Our civil litigators prosecute and defend cases before state, federal, and administrative courts and collaborate closely with other attorneys in our firm to mobilize additional resources often required for complex litigation.
Our diversely talented trial attorneys carefully tailor their legal services to provide practical solutions for the varied and unique issues faced by our individual and business litigation clients. Although we strive to reach amicable resolutions in our civil litigation cases, when trial is the only option, our litigators are prepared to provide the most aggressive trial representation possible.
Mediation and Arbitration Services
While Icard Merrill features an experienced and knowledgeable litigation department, we understand that oftentimes attorneys are seeking skilled alternative dispute resolution (ADR) services for their civil litigation clients. That's why our firm offers distinguished mediation, arbitration, and special master services – providing valuable alternatives to the expense and uncertainty of protracted litigation.
Tom Icard and Bob Lyons are skilled negotiators and accomplished litigators who have what it takes to provide effective assistance in the resolution of a full range of civil litigation matters – from personal injury and wrongful death claims to business and construction disputes.
If you are seeking ADR assistance in a civil litigation matter, contact Tom Icard or Bob Lyons to learn more about their experience and available services, to schedule a mediation or arbitration, or to secure their court appointment as a special master.
Litigation and Mediation Services