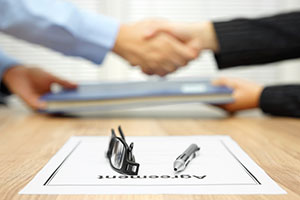 Mediation and Arbitration Services
At Icard Merrill we appreciate that litigation is oftentimes both expensive and risky.  Mediation and arbitration offer valuable alternatives to the expense and uncertainty of protracted litigation. These methods of alternative dispute resolution (ADR) present several advantages when the costs, risks, and length of a trial outweigh the potential upside. Mediation and arbitration can serve as efficient and cost-effective methods to amicably resolve legal controversies while allowing the parties to minimize the uncertainties associated with litigation and preserve critical business and personal affiliations.
We recognize that selecting the right mediator or arbitrator is crucial to an effective and meaningful process.  Tom Icard and Bob Lyons are skilled negotiators and accomplished litigators who possess the practical knowledge, experience, distinctive training, and "no quit" attitude necessary for successful mediation resolutions and fair and reasonable arbitration awards. Our team provides experienced mediation and arbitration services for clients in Sarasota and other Florida communities and is dedicated to supplying the highest level of professional dispute resolution services in a wide range of civil litigation matters, from personal injury and wrongful death claims to business and construction disputes.
Florida Mediation Services
Mediation presents a prime opportunity for parties to amicably resolve disputes in lieu of costly protracted litigation. During this process, the mediator acts as a neutral third party, assisting and guiding the attorneys and their clients toward settlement of their legal disputes. A key component of mediation proceedings is that of control – the case resolution is determined by the parties rather than imposed by a judge. This facilitates a win-win approach.
The decades of trial and mediation experience our mediators bring to the table enable them to swiftly identify and understand the critical issues in each case, and appreciate the personal philosophies and motivations of the parties involved. With these concerns identified, our skilled mediators have the talent to develop creative solutions for a successful resolution.
Icard Merrill is pleased to provide mediation services for businesses and individuals in the state of Florida.  We welcome the opportunity to serve you and your clients in mediation proceedings to reach reasonable reconciliations of civil disputes, claims, and litigation.
Florida Arbitration Services
Arbitration is an adjudicative process where a dispute is presented to a neutral arbitrator (or panel of arbitrators) for a decision that is generally legally binding. Conducted properly, arbitration can be a cost-effective, expedient, and efficient means of resolving a wide range of legal controversies. Arbitration clauses are commonly contained in business and construction contracts as the agreed method of dispute resolution and are oftentimes utilized to resolve personal injury claims, employment law disputes, and other civil practice matters.
At Icard Merrill, our arbitrators are skilled trial lawyers with decades of courtroom experience in a wide and diverse range of civil law. This experience and working knowledge of civil litigation issues translates successfully into fair and reasonable arbitration awards in even the most complex legal conflicts.
Icard Merrill provides arbitration services for businesses and individuals in Southwest Florida and surrounding areas.  We are available to serve you and your clients in arbitration proceedings to render well-reasoned, sound rulings in a broad spectrum of civil controversies.
Florida Special Master Services
With the consent of counsel and the parties, special masters are appointed by a court as judicial adjuncts to address pretrial and discovery, trial and post-trial (e.g., conduct foreclosure sales) matters, pursuant to Fed.R.Civ.P. 53 and Fla.R.Civ.P. 1.490(b). Both Tom Icard, having been previously appointed three times over the last two years, and Bob Lyons are qualified to serve as court-appointed special masters.

If you are seeking mediation, arbitration, or special master services in a civil litigation matter, contact Tom Icard or Bob Lyons to learn more about their experience and available services, to schedule a mediation or arbitration, or to secure their court appointment as a special master.
Business & Commercial Litigation