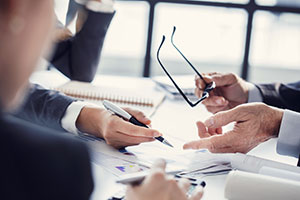 Business and Commercial Disputes
Icard Merrill's business and commercial litigation attorneys have the knowledge and experience to effectively address the extensive and diverse litigation interests and concerns of today's business clients. Our broad spectrum of business clients ranges from national companies to local businesses and involves an even broader range of disputes arising from business and commercial dealings, including:
Construction Disputes
Corporate, Partnership, and Shareholder Conflicts
Non-Compete and Employment Controversies
Payment Disputes
Real Estate Disputes
Unfair and Deceptive Trade Practices
Our business and commercial litigators have the experience, reputation, and resources to provide quality representation in the prosecution or defense of these actions, which develop from a varied scope of business contracts, transactions, and internal disputes. At Icard Merrill, our attorneys appreciate the complexities of business relationships and commercial disputes, bringing their experience and knowledge to fashion innovative strategies and specific litigation objectives for our business and commercial clients.
Working in tandem with other departments in our firm, including our business and corporate law group, Icard Merrill's business and commercial litigators evaluate the source of internal business disputes, assessing whether our clients' business plans require adjustment or restructuring to minimize the potential of future controversies and costly business disruption.
To speak with a skilled and experienced business and commercial litigator, contact us today.
Business & Commercial Litigation