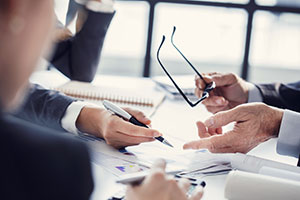 Corporate, Partnership, and Shareholder Disputes
Icard Merrill's accomplished business and commercial litigation attorneys offer comprehensive legal services to shareholders, officers and directors, general and limited partners, and others embroiled in complex legal disputes, including:
Breach of Fiduciary Duty Claims
Business Insurance Disputes
Business Resolution Disputes
Compensation Disputes
Conflicts of Interest
Contract Disputes
Corporate, Partnership, and Shareholder Disputes
Corporate and Limited Liability Derivative Actions
Corporate and Limited Liability Dissolution Actions
Embezzlement
Enforcement of Corporate, Partnership, and Shareholder Agreements
Misuse of Corporate Assets or Opportunities Actions
Non-Compete Agreements
Trade Secret Disputes
Our business and commercial litigators skillfully evaluate corporate, partnership, and shareholder disputes from both a legal and financial perspective, crafting a comprehensive resolute vision designed to meet our clients' economic and legal objectives. Often, this goal is accomplished through negotiations, mediation, or arbitration. However, when all endeavors to resolve a dispute have been exhausted, Icard Merrill's experienced business and commercial litigators are prepared to zealously advocate our clients' legal rights and interests in the courtroom.
If you need assistance with a corporate, partnership, or shareholder dispute, contact us to speak with an Icard Merrill business and commercial litigation attorney.
Business & Commercial Litigation