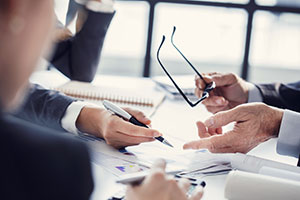 Injunctions and Declaratory Judgments
At Icard Merrill, our business and commercial litigation group assists clients throughout Southwest Florida with a variety of business disputes, seeking the most appropriate and beneficial relief for our clients. Our skilled litigators explore all options, including receiverships, injunctions, and other forms of extraordinary equitable relief and remedies. Depending upon the particular circumstances, commercial injunctive relief designed to prevent or terminate removal of collateral, unfair business practices, wrongful sale of assets, preserve the status quo, or accomplish a range of other objectives, may provide a suitable remedy.
Our business and commercial litigators are also experienced in the handling of declaratory judgment proceedings in which laws, contracts, deeds, or other legal documents are interpreted by the courts. Additional forms of equitable relief pursued on behalf of our business clients include specific performance, account of profits, rescission, rectification, and estoppel.
If you have a business or commercial matter requiring a unique legal or equitable remedy, including an injunction or declaratory judgment, contact us today.
Business & Commercial Litigation