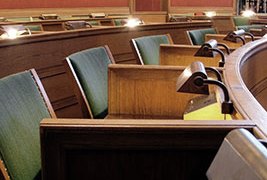 Government and Administrative
Icard Merrill has been a part of Southwest Florida's legal and political landscape for many years, representing individuals and businesses, public officials and governmental entities. Our established and respected governmental law attorneys have provided counsel to numerous local and state government entities and agencies on a variety of issues – from land use to labor and employment. This land use experience includes representation of more than 35 governmental entities in eight states. We also provide assistance to government bodies regarding the drafting and interpretation of ordinances, regulations, rulemaking, and city and county codes and charters. This representation extends to the defense of legal challenges to these laws.
Likewise, in a climate where businesses face intense government regulation, our government and administrative law attorneys provide skilled counsel to hundreds of businesses and individuals before all levels of federal, state and local governments, as well as administrative tribunals. Our experienced and knowledgeable attorneys represent business clients in contractual dealings with public procurement and bid protests at all government levels. Whether appearing before a governmental agency or administrative board, requesting approvals, lobbying, or seeking to procure a government contract, our attorneys are available to assist clients with virtually all government-related legal concerns.
Icard Merrill's government and administrative law attorneys provide quality legal assistance on a wide variety of matters.
Consistent with Icard Merrill's policy of comprehensive representation, our government and administrative law attorneys work in tandem with other practice groups in our firm to ensure integrated counsel on all issues related to our clients' government and administrative law concerns.