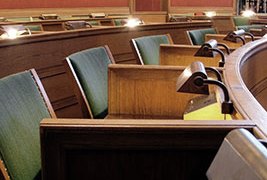 Public-Private Partnerships
A public-private partnership, or "P3", is an arrangement between public and private sector partners regarding the planning, design, construction, operation, management, maintenance, or financing of public infrastructure facilities and projects. At Icard Merrill, our governmental attorneys have extensive experience in the facilitation of P3 initiatives, providing creative solutions to the unique challenges encountered at every stage of P3 projects, including early planning and development, project delivery, and permanent financing.
Our firm has a keen appreciation of the nuances of these distinctive endeavors and is accomplished at effectively balancing the competing interests and differing perspectives of the public and private sector participants.  Icard Merrill's governmental law attorneys are similarly acquainted with the procurement and contracting strategies designed to protect the public confidence as well as the private investment.  When this knowledge is combined with quality experience, Icard Merrill offers the unique qualifications to successfully unite the objectives of P3 investors, bankers, contractors, designers, developers, government agencies, and operators.
Icard Merrill has been engaged in multiple industries involved in P3 infrastructure transactions and provides representation to a variety of P3 participants, including sponsors, lenders, governmental entities, and others in connection with the development, structuring, financing, construction, and operation of infrastructure ventures. Whether a client's goal is financing a new or expanded infrastructure or operating an infrastructure, our governmental law attorneys possess the knowledge and skill to bring the project to a successful conclusion.
If you are seeking assistance with a public-private partnership project, contact us today to speak with an experienced governmental law attorney.