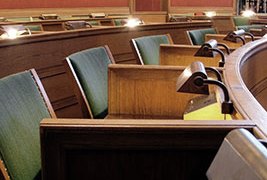 Florida Lawmaking and Legislative Lobbying
Icard Merrill understands the importance of legislative lobbying for the passage or defeat of proposed bills affecting our clients' interests in the state of Florida. Our government and administrative attorneys have significant experience in lobbying the Florida legislature – both offensively and defensively – on behalf of public and private entities. Our highly skilled and respected government law attorneys monitor bills of interest and are available to assist in proposing legislative changes for presentation before the Florida legislature.
Our firm's government law group provides government and regulatory consultation to clients striving to overcome funding, legislative, or policy changes. We participate in legislative, and regulatory work groups and assist our clients in testifying before legislative committees. Our government attorneys also monitor emerging policy issues and laws, and sustain relationships with state, regional, and local agencies to ensure timely notification of potential changes to policies and programs affecting our clients.
To obtain the assistance of a Florida government attorney who understands the intricacies of legislative lobbying and the lawmaking process, contact us today.