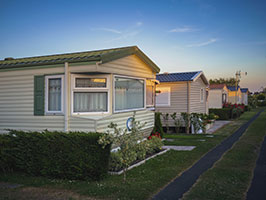 Mobile Home and Manufactured Housing
Icard Merrill has been representing clients in the mobile home and manufactured housing law industry since 1980. This unique practice involves community development and sales transactions, landlord tenant matters, regulatory issues, taxation, and various other aspects of community operations. Given the heavily regulated nature of this field, the established knowledge and experience of our attorneys ensures the successful navigation of our clients' respective rights and obligations – whether they are developing manufactured housing communities, contracting to purchase or sell these properties; or handling regulatory compliance matters; or landlord-tenant disputes.
Consistent with Icard Merrill's comprehensive approach to representation, our mobile home and manufactured housing law attorneys work closely with other departments in the firm to provide clients the full benefit of tax, business, land use, and legal advice on other associated matters. This includes collaboration with our land use practice group on redevelopment projects and other land use issues related to the development, sale, financing and operation of mobile home, manufactured housing, and similar communities.