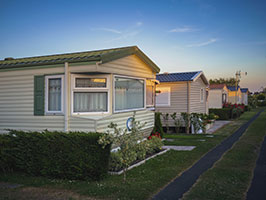 Fair Housing Litigation and Appeals
Icard Merrill's highly respected mobile home and manufactured fair housing law practice extends beyond transactional and consultation matters. Our attorneys possess exemplary advocacy skills and extensive experience in this field of litigation, representing a wide range of clients – including dealers, manufacturers, contractors, lenders, and property owners – at the trial and appellate levels.
Our attorneys appreciate the nuances of mobile home and manufactured housing law and adeptly handle a comprehensive variety of litigation and administrative matters, including disputes among mobile home owners and tenants, government regulation and Fair Housing issues, controversies arising from land use, conversions, and the development and sale of these properties. Along with their accomplished litigation skills, Icard Merrill's mobile home and manufactured housing law attorneys offer innovative approaches to successful resolution of our clients' litigation concerns.
For assistance in all matters related to mobile home and manufactured housing litigation, contact us today.