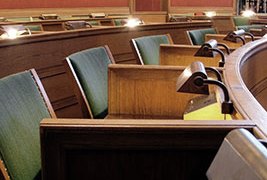 Administrative Law
Icard Merrill's administrative law attorneys advise our government and private clients on a comprehensive variety of matters. Our government clients obtain counsel on Florida's open government laws, rulemaking, purchasing, and intergovernmental relations. Likewise, this unique understanding of administrative law procedures means our attorneys also defend administrative and regulatory enforcement actions brought by the federal government, state and local administrative boards, commissions, and agencies against private companies, professionals, and other individuals.
Our firm recognizes that virtually every Florida business and professional is subject to a variety of licensing, permitting, supervision, and compliance requirements. At Icard Merrill, we are well-equipped and experienced to advise and represent clients on these issues. We strive to provide personalized representation at informal and formal administrative proceedings involving matters from rule development and challenges to professional disciplinary actions and administrative fine and penalty proceedings.
While our governmental law attorneys are experienced in land use and real estate issues, they work closely with our land use and real estate departments to handle a wide variety of administrative and legislative issues before federal, state, as well as local administrative agencies, the Division of Administrative Hearings ("DOAH"), and legislative bodies. Icard Merrill provides experienced, comprehensive representation on matters relating to interpretations and challenges of laws and regulations, economic development programs, permit approvals, and legislative lobbying. This collaborative approach allows quality litigation on administrative and appellate levels regarding land use, growth management and environmental matters, including comprehensive plan and amendment consistency cases, land development regulations, development orders, and dredge and fill permitting.
If you need representation in an administrative matter, contact us today.