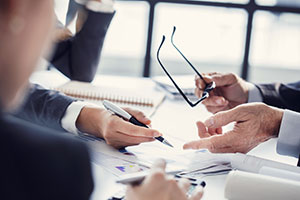 Banking Litigation
Icard Merrill's banking law litigators are well-versed and accomplished in the comprehensive representation of lending and financial institutions. Our skillful attorneys handle a wide range of legal issues facing this industry, including:
Bank Collections
Bank Directors and Officers Liability
Banking Law
Banking Regulation and Regulatory Compliance Law
Commercial Banking and Loans
Commercial Credit
Consumer Banking and Loans
Escrow Agent Liability
Escrow Law
Fair Lending
Financial Law
Foreclosures
Interest and Usury
Lender Law and Regulation
Lender Rights and Liability
Letters of Credit
Loan Participation, Restructuring, and Workouts
We are uniquely qualified to provide experienced, aggressive representation, advising our banking litigation clients of all available remedies and defenses. While Icard Merrill's banking law litigators stand ready to vigorously pursue these legal strategies in the courtroom, we remain mindful of practical business and economic considerations – including viable resolution alternatives to litigation – and strive to achieve the best possible settlement or legal outcome for our banking law clients.
Contact us today to speak with an experienced Icard Merrill banking litigator.
Business & Commercial Litigation