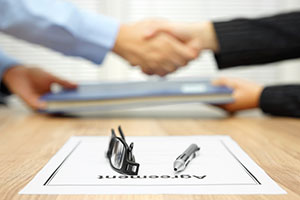 Contract Disputes
While contracts are designed to clearly and fairly outline the rights and obligations of the parties, disputes frequently arise regarding the interpretation and implementation of contracts. At Icard Merill, we represent clients in the full range of contract disputes.
Our contract litigators are experienced in all types of contract litigation, from real estate and construction contracts to employment and business agreements. Our dedicated contract litigation team has decades of experience and familiarity in virtually all areas of contract disputes. Icard Merrill's civil trial attorneys successfully represent their contract clients' rights and interests during each and every stage of the litigation process, in the courtroom or at the negotiation table, from trial or at the appellate process.
In furtherance of our firm's goal to provide comprehensive and consummate representation, Icard Merrill's trial team associates with other attorneys in the firm with particular knowledge of the specific areas of contract law in dispute. This team approach is just one of the many features which sets Icard Merrill apart, contributing to our trial team's reputation as some of the most respected and skilled lawyers in the Southwest Florida community.
Litigation and Mediation Services