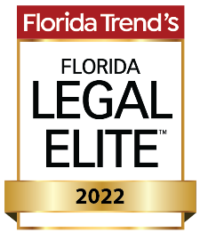 JUNE 28, 2022 – Four Icard Merrill attorneys have been named to list of Florida Trend's 2022 Florida Legal Elite™. Honored in this year's edition are Anthony J. Manganiello III, William W. Merrill III, Alyssa M. Nohren, and Patrick C. Seidensticker.
The list of 1,122 honorees represents just over 1% of active Florida Bar members and includes attorneys in private practice as well as top government and non-profit attorneys. Manganiello is recognized in the category of Civil Trial Law, Merrill in Government and Administrative, and Nohren in Real Estate. Seidensticker is honored as a Legal Elite Up and Comer, a special category for attorneys under the age of 40 who have exhibited leadership in the law and in their community.
Now in its 19th year, the Florida Legal Elite presents the state's top licensed and practicing attorneys selected by their peers. "The Florida Bar applauds those who were selected for this prestigious honor, which reflects their commitment to excellence and professionalism in the field of law," noted Florida Bar President Michael G. Tanner.
The entire Legal Elite roster can be viewed in Florida Trend's July issue.
###