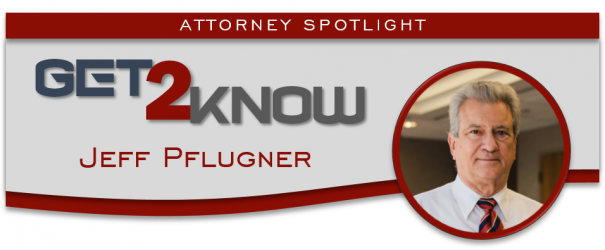 Jeff Pflugner is a shareholder at Icard Merrill practicing in all areas of real estate law. He has focused his representation of real estate clients since beginning his practice in 1972, dealing extensively with all aspects related to the ownership, financing, taxing, insuring, leasing, exchanging, transferring, and development of real property.
---
What advice do you have for clients for finding the right lawyer in your practice area?
Start with someone who has been a lawyer in the area you need for an extended period of time. Most of them will know who will be the most help. If they do not have someone working for them that will fit the bill, they will most likely recommend one.
What is the most fulfilling part of your job?
Completing a task/assignment.  The more difficult, the more the level of satisfaction.
What's a typical day like?
Having to deal with many varied issues.
What is your greatest professional success?
Keeping in the practice for over 44 years.
What class should you have taken in law school?
Ones that were not offered that had more practical application.
Who has given you the best advice about practicing law and what was that advice?
Phillip Kennedy, Sr. He was the attorney for my father's employer. He did not have business cards. He said make sure the community in which you work knows you and work, and then you will need a business card!
What advice would you give to a law student?
Take some practical courses, work in a law firm during your time off, summers, etc. Get a better grasp of what will be expected of you when you enter the real work of law.
What makes you laugh?
Tough question. I don't laugh enough, but my youngest granddaughter makes me laugh.
What are your three most favorite activities outside of work?
1) Watching college football, and being with all of my family, 2) Tailgating at Bucs games, and 3) Taking care of my yard and its many growing plants, etc.
What's great about living in the Suncoast area?
Better yet, what is NOT great about living here!
What one community or nonprofit organization are you most passionate about?
There are several, but the Red Cross would be tops on the list.