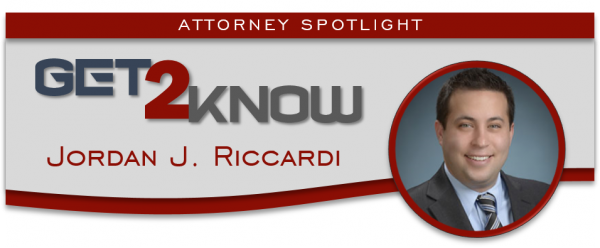 Jordan "Jordy" Riccardi concentrates his practice in the firm's estate planning and probate division, as well as the corporate law division and real estate division. Jordy structures and composes estate plans that meet the various desires and objectives of his clients, including planning for incapacity and illness, and providing for loved ones. He represents clients in trust administration and probate matters, both as fiduciaries and beneficiaries. Synchronizing business and personal goals, Jordy also practices corporate and business law.
---
What advice do you have for clients for finding the right lawyer in your practice area?
Look for a lawyer who is not only experienced in the particular services you are searching for, but also one who practices in the local area specific to your issue.  Knowing the local court rules and leadership is imperative.
When do most clients in your area come to realize that they need an attorney? 
As to estate planning, folks most often see me because they want to organize their estate or businesses, either because they feel compelled to protect and simplify their legacy, or have witnessed the aftermath of a loved one who passed away without a will or trust.  When clients see me for a person that has already passed, I assist with the actual administration of that deceased person's estate or trust.  When clients see me for business matters, they generally have a well identified issue, such as the sale of the business or preparation of a contract.  Finally, when I serve as closing agent on a real estate transaction, clients are generally already under contract and looking for an attorney to review and supervise, and perhaps most importantly, issue title insurance.
What is the most fulfilling part of your job? 
Getting to know my clients and witnessing their reaction when their goals have been met or accomplished is extremely fulfilling.  Additionally, I love the subtle art of writing. Practicing law is like working on a jigsaw puzzle: once the pieces are arranged together it is sublime.
What's a typical day like? 
I typically meet with clients in either the late morning or mid-afternoon, which may be a consultation, status conference, or a signing conference.  I take, or return, phone calls as much as possible throughout the day.  The majority of my day is occupied by tending to client files, and drafting correspondence, wills, trusts, agreements, court pleadings and the like.  At the end of the day, I go home to my beautiful wife.
What is your greatest professional success?
My greatest professional success is helping every one of my clients, from all walks of life, to meet their goals.  I have been a part of some wonderful cases, and have been able to assist some equally wonderful people through tough times or confusing concepts.
Who has given you the best advice about practicing law and what was that advice?
My mentor, Todd D. Kaplan, who has given me far too many bits of advice to list here.  
What advice would you give to a law student?
1) You already have all the tools you need to be successful; and 2) there is no substitute for hard work.
What book are you currently reading, or what book do you recommend? 
I would recommend Life of Pi, and may you never lose your sense of wonder.
What makes you laugh?
Just about anything: from comedians, to life, to family.       
What are your three most favorite activities outside of work?
Family, wife and dogs; home projects; being outdoors.
What's great about living in the Suncoast area? 
The Suncoast area has one of the most vibrant "souls" a place could have.  It is abundant with culture, arts, entertainment, beautiful beaches and scenery, fresh seafood, great restaurants, and friendly people who know they've "made it" to paradise.  It is a warm tropical climate in a safe haven where one can raise a family, while having access to the opportunity sufficient to do so.  The big city amenities are nearby, but we hardly have reason to leave home.
What one community or nonprofit organization are you most passionate about? 
Legal Aid of Manasota